About the game
Rad Ralph took the Sacred Carrot and wiped out Chester's herd. Now Chester must get revenge. Takedown Rad Ralph's lieutenants one by one and crush them. Reclaim the Sacred Carrot and help the world's most badass guinea pig avenge this vile act of depravity.
Boss fighter Platformer Adventure Shooter
Play as Chester, a smart-mouthed guinea pig with an attitude who is hell-bent on a quest for revenge against the murderous thief: Rad Ralph.
– An action-packed 2d retro shooter.
– Beautiful retro pixel art.
– Rockin 8-bit Chiptune Soundtrack.
– Vibrant Voice Acting.
– Eight beautifully crafted platformer levels.
– Intense multi-phase boss encounters.
Chester's Revenge is a heart-pumping, fast-paced action game inspired by old and modern classics such as Cuphead, Mega Man, and Metal Slug. By combining our love of retro games, cheesy 80's action heroes, and challenging multi-phase boss encounters, we've created a fresh unique experience the likes of which has never been seen before.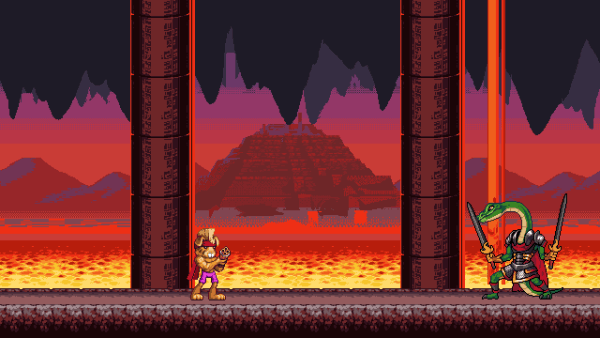 Take control of Chester the pig as you avenge your herd and set out to retrieve the Sacred Carrot. Armed only with his trusty hand cannon, Chester must battle his way through Rad Ralph's lieutenants in an over-the-top style revenge romp to reclaim the Carrot and stop Rad Ralph from world domination.
Tight controls combined with fast frantic gameplay and ultra-challenging boss encounters will push your skills to their limits.
– Fast responsive tight controls.
– Blocking, Dashing, and Double Jumping.
– Multiple firing modes and super shot ability.
– Eight beautifully crafted platformer levels.
– Eight ultra-challenging multi-phase boss encounters.